Diploma in Osteopathy (CEO-QC), Osteopathic Practitioner, BSc (Nursing),
SPMPO (B-C), ROQ (QC)
suzanne@healthyosteo.com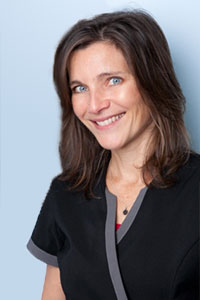 Suzanne graduated in 1984 with a Bachelor of Nursing degree from Université de Montréal.
She worked as a nurse for 17 years in Montréal and Toronto, initially in a hospital setting in the intensive and emergency care units, cardiac care unit and pre and post-surgical care.
She continued her career in a community healthcare centre in Montréal's inner core delivering at home health care services to the elderly and AIDS sufferers. She broadened her field of work by giving care for the homeless and drug addicts. Finally, she provided expecting mothers and children with healthcare.
A desire for a new challenge led Suzanne to study osteopathy at the Collège d'études Osteopathiques de Montréal. She graduated from the 5 year course in 2003 and she completed her 2 years thesis in 2005, her work was entitled: 'The overall effect of osteopathic treatment on women suffering from stress urinary incontinence'.
As a mother of two, Suzanne has a substantial interest in children's healthcare. Suzanne has a substantial interest in children's healthcare and enjoy also giving care to the whole family. She treats from newborn and children, pregnancy, to the very elderly.
She has consequently undertaken post-graduate complementary training on the osteopathic treatment of developmental problems in children aged 0 to 18 years old. Suzanne is also currently pursuing  3 courses in biodynamics in pediatrics and biodynamic phases I to VIII developed by Dr James Jealous.
In addition, Suzanne completed other post-graduate studies which include advanced cranial osteopathy for treatment of head injury, concussion and emotionnal endocranial spasms release.
Some others osteopathic post-graduated courses she studied are courses on Brain Gym® and Dynamic and Postural reflexes. To further refine her joint manipulations, Suzanne completed a course on specific adjustment techniques (level 1-2-3), advanced palpation post-graduated class (level 1-2) and a course on Muscular and articular chains- GDS method for treating mis-alignment and pain in the locomotor system.
Suzanne uses a variety of techniques in her treatmentsnot only to ease pain but also to help improve the function and the aligment of different tissus of the body (organs, muscles, bones, ligaments, circulatory and nervous system, the general health) Suzanne believe that everyone has a potential to heal and the osteopathic practitioner will help to remove those barrieres which refrains the body to express his health fully and to access a higher level of health.
Somes of the techniques used by Suzanne include cranial osteopathy (biodynamic and conventional), visceral, myofacial release, functional, muscle nergy techniques, facial unwinding, facial bones techniques and also recommends, if needed, preventative exercises and postural advice to help to reach a faster recovery.
Since 2011, Suzanne is teaching palpation classes to students in Osteopathy at the Canadian College of Osteopathy in British Columbia. She is also a jury member at the college for the evaluation of the Osteopathic these protocols and a member of year-end evaluation jury.  Suzanne has been the thesis Director of 3 Osteopathic thesis from 2008 to 2010 the first was "The effect of general Osteopathic treatment on chronic constipation" and the second on "Osteopathic treatment for the urinary incontinence in pre-menopausal women: The measured effect on the bladder neck and urethra, and finaly since 2013 on "The effect of oateopathic treatments on the subjective disconforts of people with chronic tinnitus."
Suzanne is registered with Osteopathy BC (formerly Society for the Promotion of Manual Practice Osteopathy (BC). And is a member of the Registry of Québec Osteopaths (ROQ).
Her other passions, besides osteopathy, include running the North shore trails, cross-country skiing, hiking, pilates and adventure traveling with friends and familly.