MEd, Dr. TCM, RCC
Dr. of Traditional Chinese Medicine and Registered Clinical Counsellor
To book an appointment with Dr. Judy Zhu please go to www.turningpointacupuncture.ca or call (604)-738-5288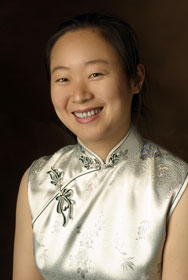 Judy Zhu is a registered doctor of Traditional Chinese Medicine (Dr. TCM) and a registered clinical counsellor (R.C.C.) practicing in North Vancouver, B.C.
She is passionate about helping people to improve their health through a body and mind integral approach. Perhaps, you have a chronic physical condition that is compounded by fear, worry, or stress. Or perhaps, like many others, you experience depression, anxiety, or mood swings, which are impacting your entire life — your housework, your work, or your family life. For more than a decade, Judy has been helping people like you to get on a path of physical and emotional well-being.
Judy uses Chinese Medicine, acupuncture and other natural healing modalities to directly work with the body's energetic systems. She also uses counselling to help people who experienced traumas, are in the middle of difficult life events or going through important life transitions. These events pose tremendous amount of stress on the whole being, however they can also be used as opportunities for healing and deeper understanding of self, which may pave the way to a more fulfilling and meaningful life. According to Chinese Medicine, imbalances or blockages in your energetic systems that overwhelm the body's ability to cope lead to physical and emotional symptoms. With a more balanced energy system, more self-awareness, more functional attitude and behaviours in life, you will live life more fully with a sense of physical and emotional well beings.
Judy was born in the city of Hangzhou in mainland China, and was raised with both Eastern and Western influences. Her mother was a doctor of Traditional Chinese Medicine and her father a psychiatrist. She has many fond memories of sitting at the dinner table discussing cases of both mental and physical health with her parents. She graduated from International College of Traditional Chinese Medicine in Vancouver in 2000, and has been a registered acupuncturist and registered Doctor of Traditional Chinese Medicine in good standing with the College of Traditional Chinese Medicine Practitioners and Acupuncturists of British Columbia. She pursued extensive training in Chinese Medicine and acupuncture.  She has finished two years post-graduate work integrating Eight Principle and Five Element acupuncture with Lonny Jarrett, the preeminent expert in treating psycho-emotional conditions with acupuncture and Chinese herbal medicine. She received her master in Counselling Psychology from UBC and is a registered clinical counsellor in BC. She has worked with people with addiction issues in a residential setting, and has helped many others with diverse challenges such as depression, anxiety, life transitions, relationship issues, career directions, past trauma, panic attacks etc. Her passion is to help people to achieve better physical and mental health with a body-mind integrated approach.
She has led many workshops and seminars on the topic of healing depression with Chinese Medicine. She also taught courses on Chinese medicine and supervised student clinic practice.  Her practice was featured in the Georgia Straight.
Judy practices Zen meditation and is on the board of directors of North Shore Zen Association. She finds the mindfulness she cultivates from her Zen practice benefits her greatly in both her professional life and personal life — helping her to be more present and compassionate with her clients, and giving her patience and resilience when interacting with her six year old daughter.
In her free time, Judy enjoys playing with her daughter, practicing Tai Chi, hiking, painting, singing and reading.
For more information on Dr. Judy's practice please go to her website www.turningpointacupuncture.ca