BAppSc (Osteopathy), Osteopathic Practitioner
SPMPO (BC), GOsC (UK)
melita@healthyosteo.com
Originally from New Zealand, Melita qualified from the Royal Melbourne Institute of Technology in Australia in 1993 with a 5 year full time (5545 hours) Bachelor of Applied Science in Osteopathy.
Her interest in sports injuries led to her working on the World Cup Luge Circuit for 6 seasons and at 2 Winter Olympic Games. She worked with team Canada, the US Virgin Islands, Great Britain, and Italy.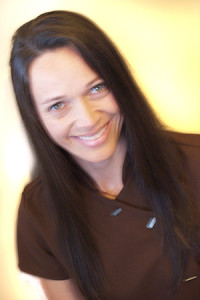 Travelling on the luge tour gave Melita considerable exposure to treating athletes with concussion and other high speed sporting injuries. It also gave her an understanding of elite competition and what it takes to perform and win at that level.
Her gentle osteopathic approach allowed many athletes to return to competition sooner than expected after crashes that normally would have prevented them racing.
While Melita enjoys the challenges of working with world class athletes she also loves treating children and families. Having known the benefits of osteopathy for her own two active young daughters and her husband who was an Olympic luge athlete she was keen to share her love of osteopathy with the community around her.
Her passion for ongoing education inspired her to further her studies at the Swiss Osteopathic Centre for Kids in Crans-Montana, Switzerland. Opened in 2008, this in-depth post-graduate paediatric course, developed and run by Dr James Jealous, is based on the biodynamic osteopathic approach.
The training program is unique in the world of osteopathic treatment for children as it is the first time this many teachers and osteopaths have worked together to build up one curriculum to stand as a bench mark in paediatric osteopathic medicine.
In 2013 Melita counted herself privileged to be amongst the first graduates and continues to travel to Switzerland to develop her skills.  She also continues to travel to Oregon to study with Dr Jealous in the Biodynamic Phases.
Some of Melita's most recent post-graduate studies include CRAFTA (Cranio Facial Therapy Academy)  Foundation courses 1 & 2 (specialising in tempero-mandibular joint dysfunction, head and face pain), Functional Assessment and Core Training with Dr Craig Liebenson, Dynamic Neuromuscular Stabilisation A & B (Prague School of Rehabilitation) and Dr Stuart McGill's Detailed Back Assessment and Building the Ultimate Back.
Melita employs a wide range of osteopathic techniques including cranial, (biodynamic and conventional), soft tissue massage, visceral, myofascial release, fascial unwinding, functional, muscle energy technique and exercise prescription to offer patients answers to the most challenging of problems.
Having a variety of techniques at her disposal enables Melita to tailor treatments for patients of all ages. She works with newborns and children right through to the very elderly. Melita has a particular interest in supporting expectant mothers through pregnancy, working with children with developmental challenges and patients with head injuries.
She believes that given the right conditions, the body has an amazing ability to heal itself.  The role of the osteopathic practitioner is to perfect the art of listening to the body and to support it where it is trying hardest to correct itself. Combining this with a thorough knowledge of anatomy, physiology, biomechanics and disease processes the osteopathic practitioner is able to facilitate healing and support homeostatic mechanisms.
Melita's diverse osteopathic approach is complemented by studies in Brain Gym®, Dynamic and Postural Reflex Integration Therapy and integrative medicine (nutrition and detoxification).
Her in-depth post graduate cranial osteopathic training has culminated in her being a faculty member of the Sutherland Cranial Teaching Foundation of Australia and New Zealand.
She is a member of the Osteopathy BC, (formerly Society for the Promotion of Manual Practice Osteopathy (BC) and the General Osteopathic Council in the United Kingdom.
Melita keeps up to date using Research Review Service to provide her patients with the latest evidence based medicine approaches.
Her other passions, besides osteopathy, include running the North Shore trails, snowboarding, stand up paddle boarding and photographing her kids.